Welcome to the Altmann Tera-Player Website
The heart and soul of true-fidelity portable listening dwell here!
ORDERS TAKEN, GO AHEAD !
The big font above will tell you, if I take Tera orders from you or if I do not take orders at this specific time, probably because I am busy fulfilling current orders. Please do not order, pay or email me when the big font is red and reads "Sorry, no orders taken at this time" !
If the big font above is green and says "Orders taken, go ahead!" you can order your Tera-Player by email or use the following paypal express button. .
Please understand that I need at least 10 days for the manufacture of your Tera-Player! Depending on where you live on the planet, shipping time normally varies between 2 and 10 business-days.
Before you order or email me, please read the Tera-Player user's manual.
"For the first time in the history of mankind
a pocket size music-player is being offered
that delivers super-fidelity sound quality"
The Altmann Tera-Player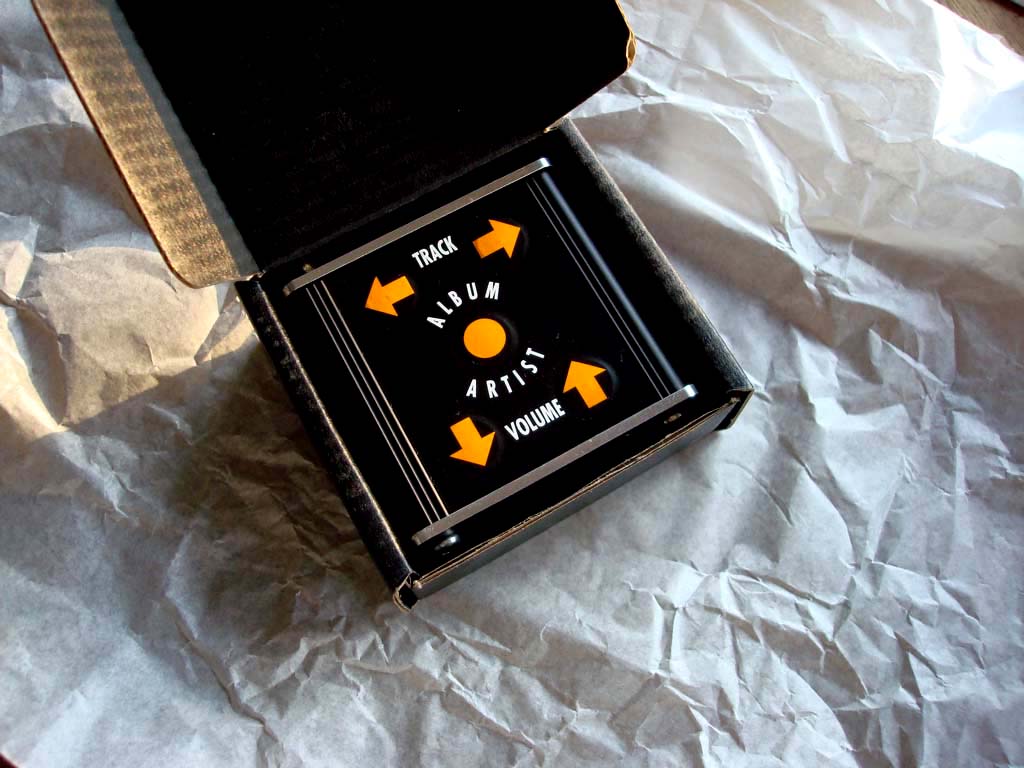 SOME TERA-PLAYER REVIEWS
Keita-san from Japan
The Tera player has arrived safely.
I heard it immediately.
I have bought various DAPs but there are no other satisfying players so far.
I am deeply grateful that I can use a Tera player.
To your wonderful work, I want you to say with the utmost appreciation and respect, thank you.
Keita
Sherry from USA
Dear Charles,
I LOVE my new tera player!!! Thank you Soooo... much for creating this AMAZING sound!!! It truly IS Beautiful. However, the sound is even more beautiful!
Thank you, Thank you, Thank you,
Sherry
Steve from USA
I received my red Altmann yesterday and it works as flawlessly as promised.
You are a magician. :)
It's the most natural sounding player I've heard (and I've heard many).
I'm enjoying it very much.
Many thanks,
Steve
Allen from Australia
Hi Charles,
The sound is amazing even I dont use a good headphone. So cool?
Regards
Allen
Stephen from UK
Hi Charles.
I thought it was worth giving another update.
I continue to use the Tera Player daily and love it as much as ever.
I purcased a Chord Mojo some months back as I had heard great things about it, and to be sure it is a great device.
But it's not as sweet and smooth as the Tera Player.
So, to be honest, it doesn't get used that much at all as the Tera Player is still first choice every time.
Cheers
Stephen
Barry from USA
Hello Charles,
How is life treating you these days. I hope very well.
I just wanted to drop you a line to remind you just how much I am enjoying my Tera Player with each passing day after 6 months of ownership.
This player is the absolute best in class media player in the world!!
I'm sure you knew that already though right :)
I wish I had purchased 2 of the FTU's when I purchased mine because I really would like my wife to have her own since our musical taste are so different.
Listening to mine along with me doesn't satisfy her musical taste :)
Regards,
Barry
Wan from Singapore
Hi Charles,
Yes! Tera is up and running :)
It's life-like, very real (like the singer is performing in front of me). I'm gobsmacked !
The stage is nice for me to feel the stage performance.
It's very very musical and, you know, I have been listening non-stop for the final few hours before I reluctantly hit the sack. hehe...
I am loving the sound...
Currently, using the middle port.
Will try out the outer port, to see if there is any difference =)
Thank you, Charles.
Regards,
Wan Quan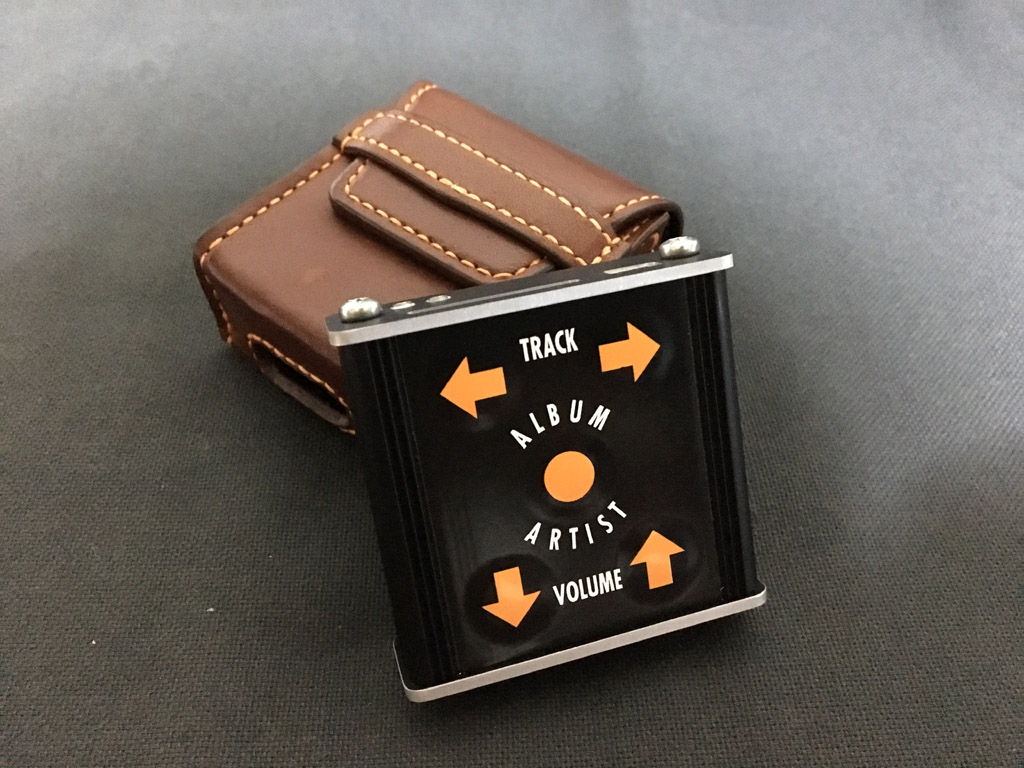 Above photograph courtesy of Wan Quan, Singapore.
Will from USA
Charles,
I spent 23 years in my own record shop.
Over that time I spent over hundred thousand dollars on home and portable audio equipment.
But I have to tell you it wasn't until I bought the Altmann Tera light and a set of modified Porta pros did I hear music for the first time.
You are an audio genius.
Thanks for changing my life,
Will
Hagen aus Deutschland
Hallo Charles,
der Tera Player hört sich himmlisch an, einfach toll.
Ich höre zur Zeit mit meinen LCD-Kopfhörer.. Ein tolles Gespann.
Gruss, Hagen.
Steven from USA
Hi Charles,
Here it's soon to be year 4 with my Tera-Player. Times flies and I can still
say the feeling I have for my Tera-Player is like it was brand new. The
listening pleasure never changes. Each time I pick it up which is a lot is
holding something so special. Still in love with your creation that keeps
soothing my soul.
I dread the day when l have to part with it to have my battery replaced but
so far, so good. Like with everything in life nothing last forever so
selfishly speaking, stay healthy and out of danger. You need to be around a
long time!
Steve
François from France
Hello Charles,
I guess you have already read that but I'm greatly impressed by what I've heard during the first listening sessions of the Tera.
It's exactly what I was searching for : natural sound, « breathe » around the instruments and singers (sorry, my english skills are not good enough to describe it in a clearly way) !
As a lot of people wrote on the internet, I didn't feel any ear strain, even when I'm listening metal or experimental :)
Then, I found the player I was searching fo so many years, it's clearly worth the investment :)
Thank you Charles for this impressive player,
Wish you the best.
François
Tsutomu-san from Japan
Hi Charles,
I'm thinking that you are God !
I had challenged for the best sound quality, for example AK120, AK240, AK380, and many many portable amps, batteries, but these weren't satisfied with my ears !
And, Always I backed your Tera, Tera is the best sound portable player !
Therefore ,I can't wait for the latest Tera Stealth.
You are exactly the best sounding God in the world .
Thanks God !
Best Regards Tsutomu
Jacky from China
By the end of 2015 still the world's best portable music player. I gave a listen to my son through Sony MDR CD3000, great combination btw.
Jacky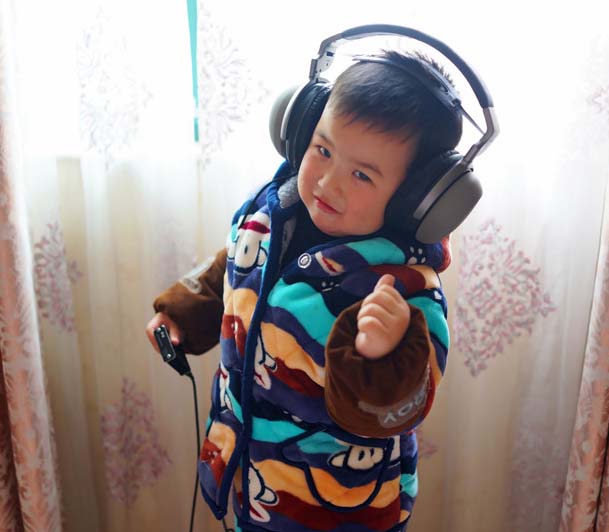 New Tera-Player models:
'THE REVEREND' switchpad done in dark-brown, blackened screws, polished front- & rear-plates
'ENZO' switchpad done in signal-red, plated screws, polished front- & rear-plates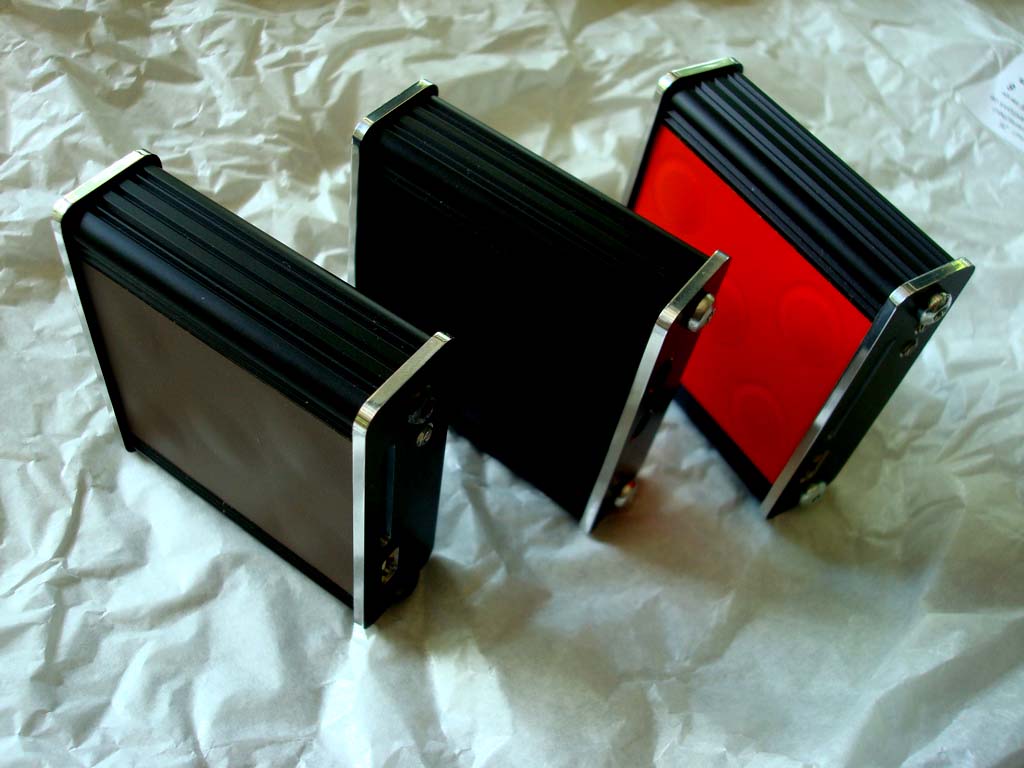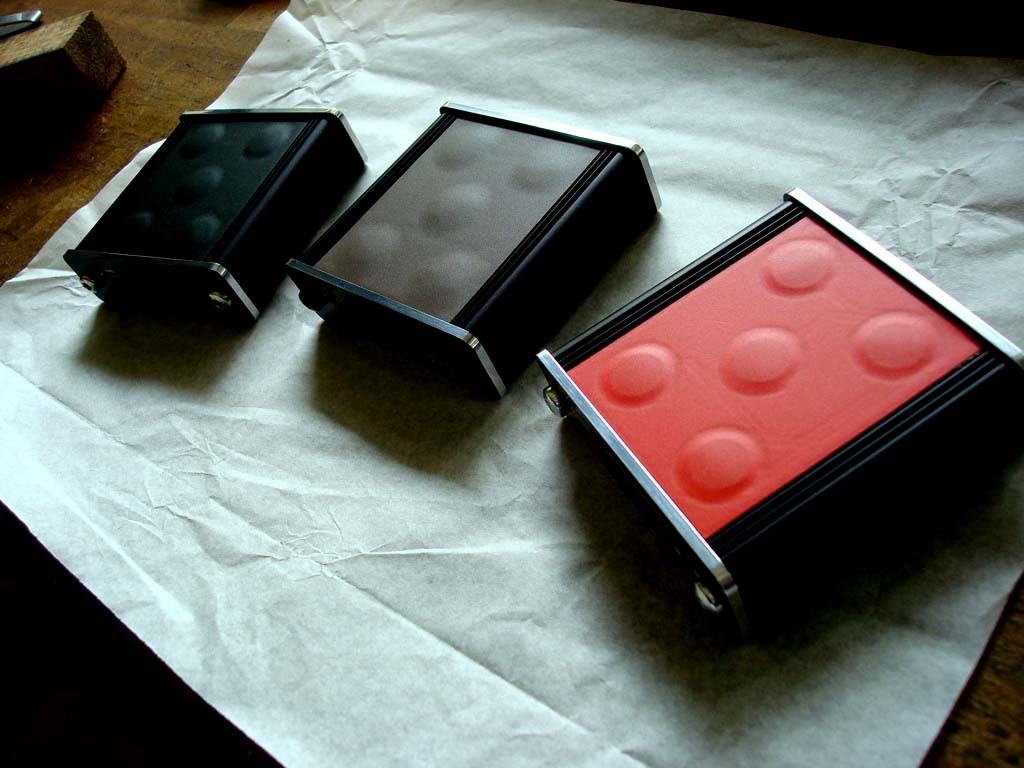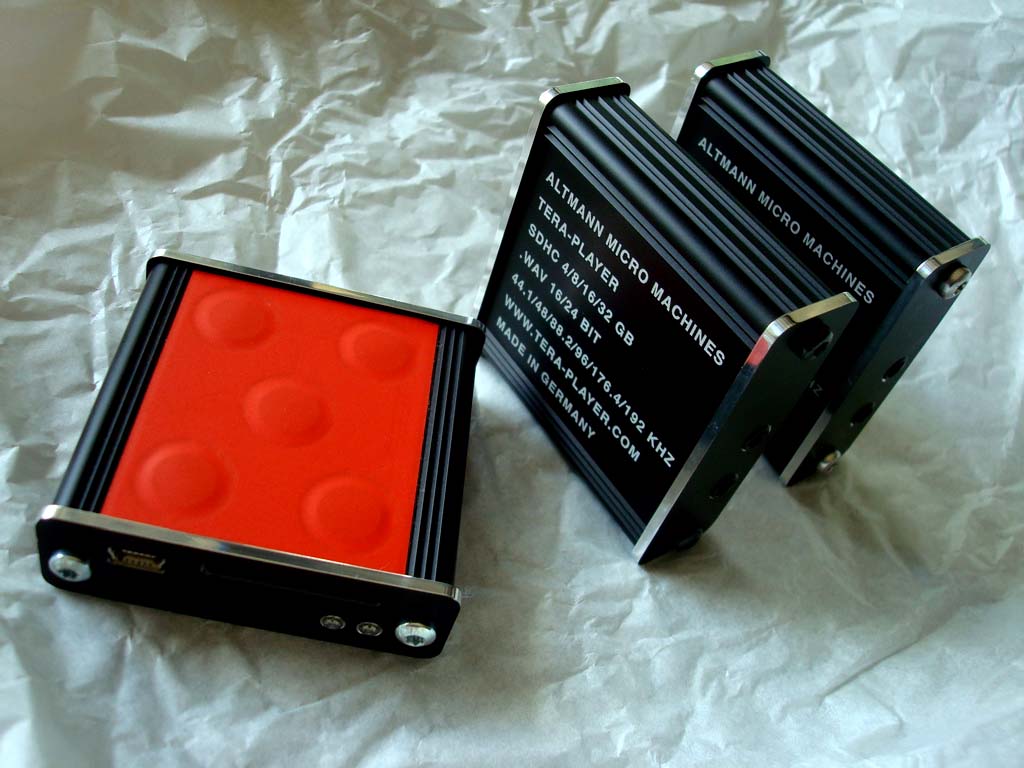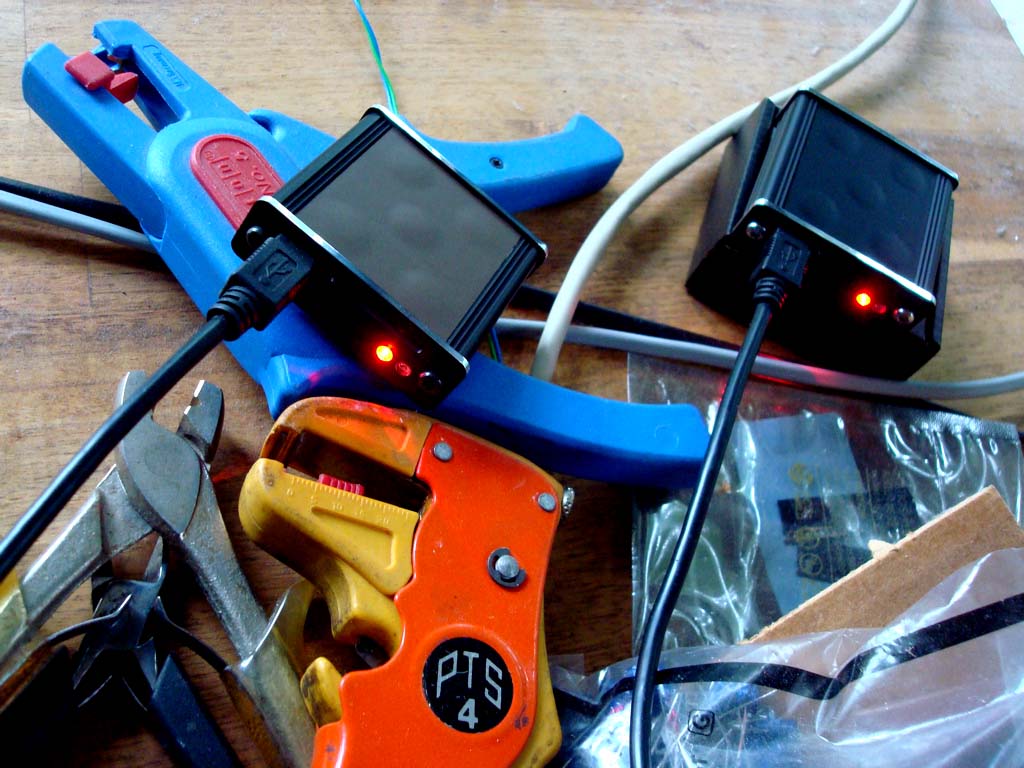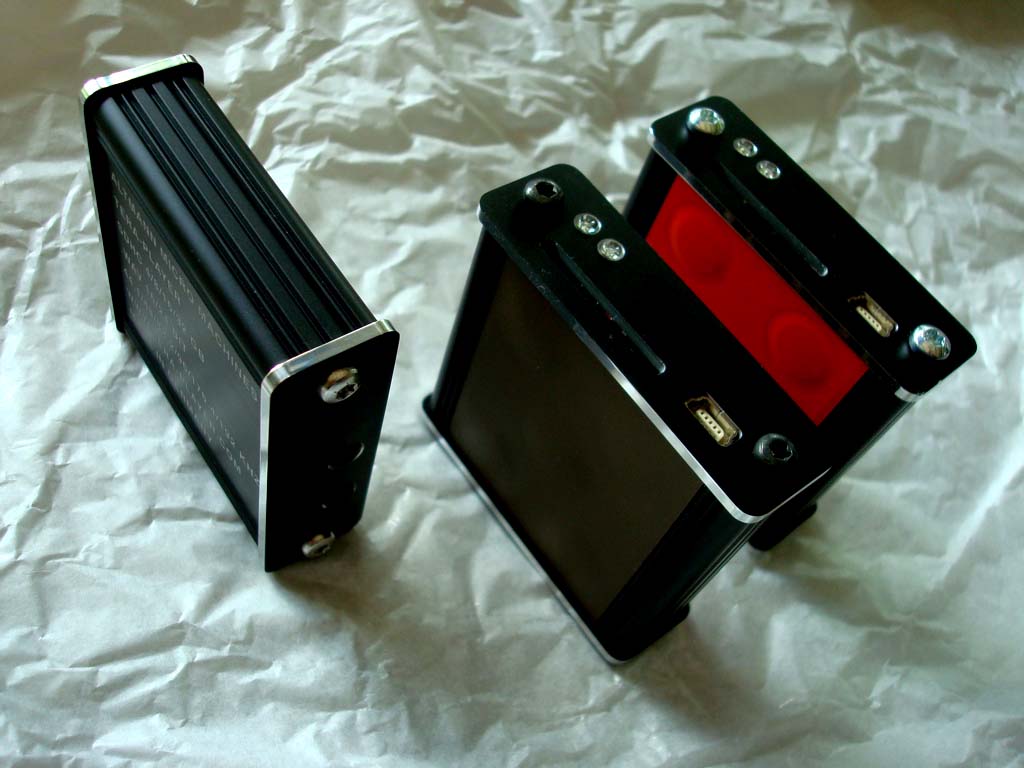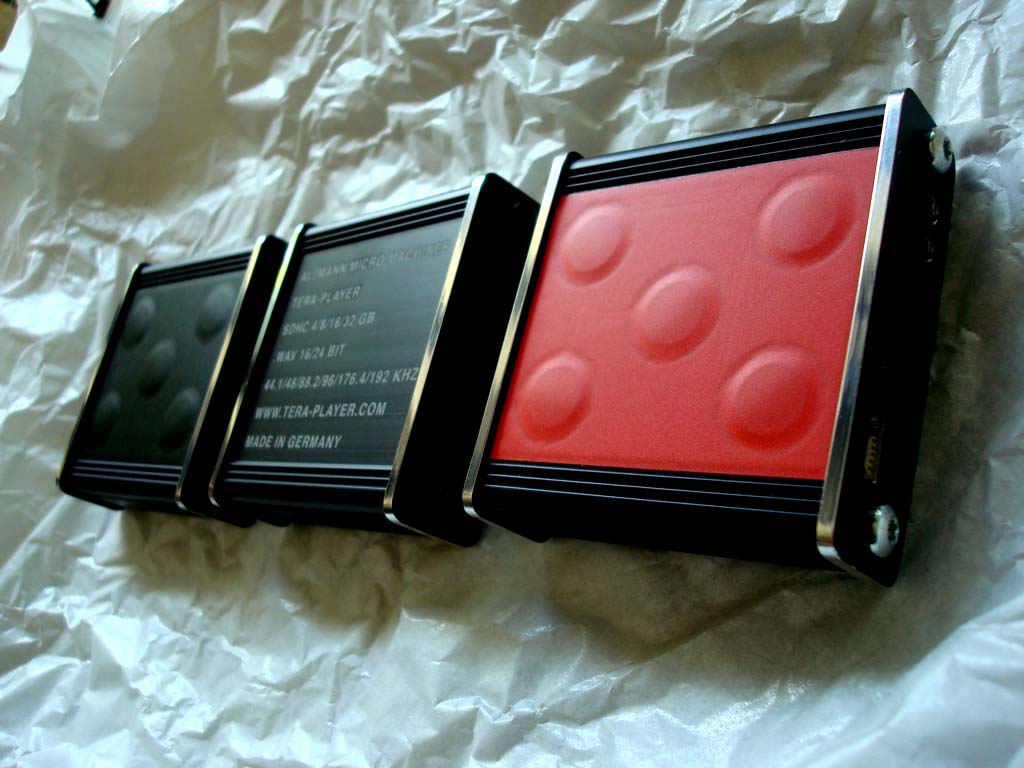 Now available: satinized (left) or polished (right) edges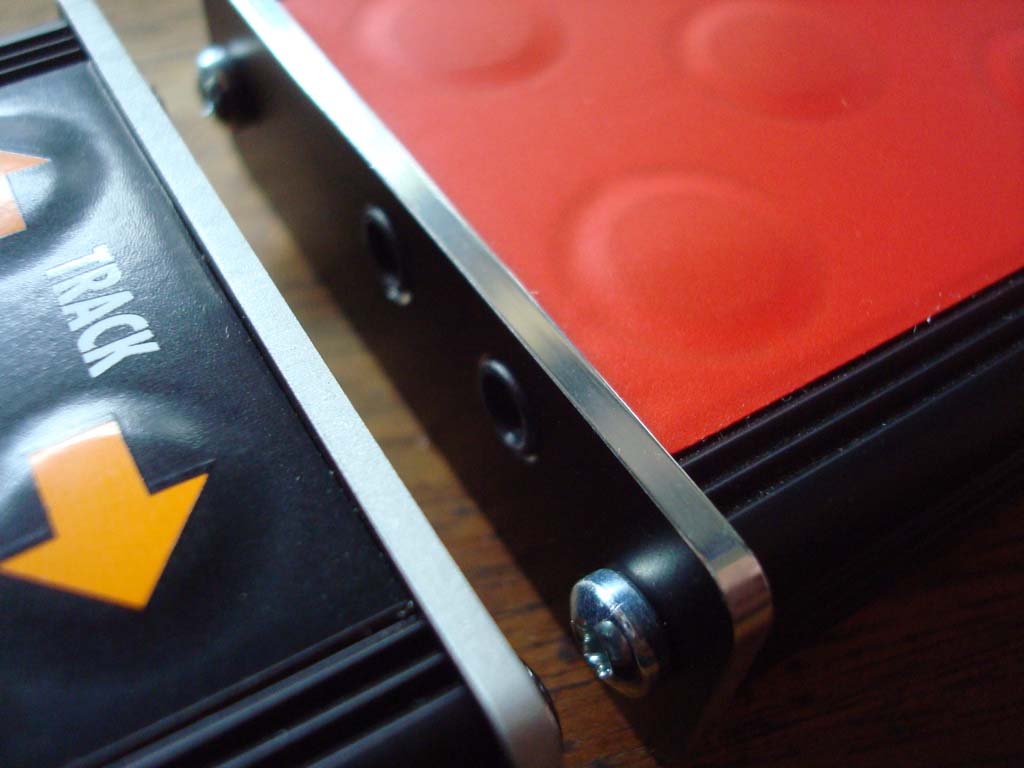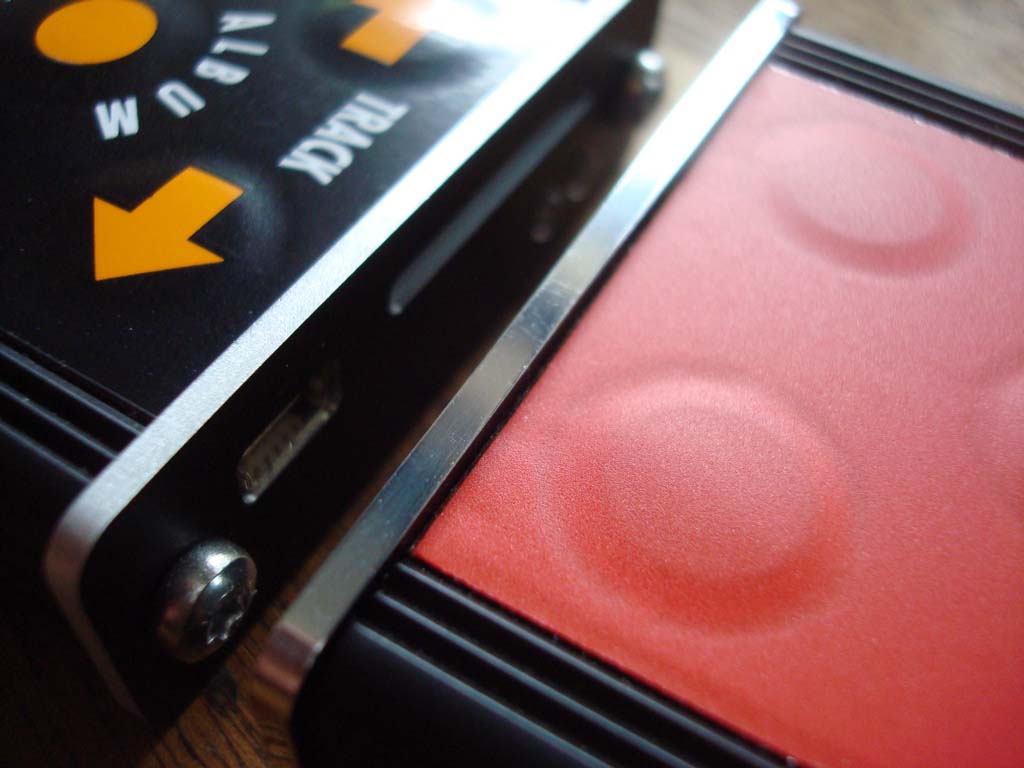 And suddenly, all at once, there was ... LIGHT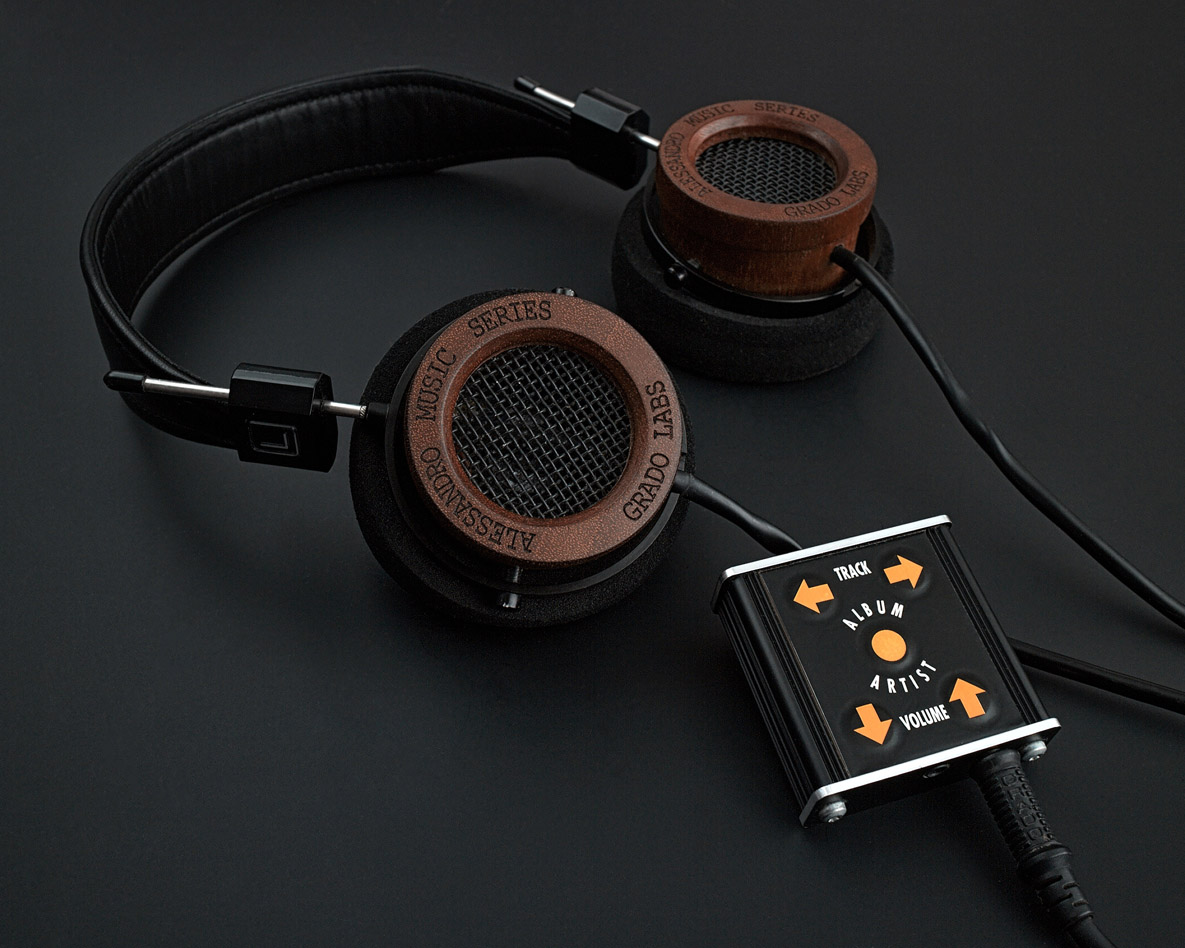 Above photograph courtesy of Maxim Nikitin, Russia.
Hi there, and welcome to the home of the world's one-and-only portable music player.
The Altmann Tera-Player was created for those individuals who desire and need a higher level of sound quality.
THE ALTMANN TERA-PLAYER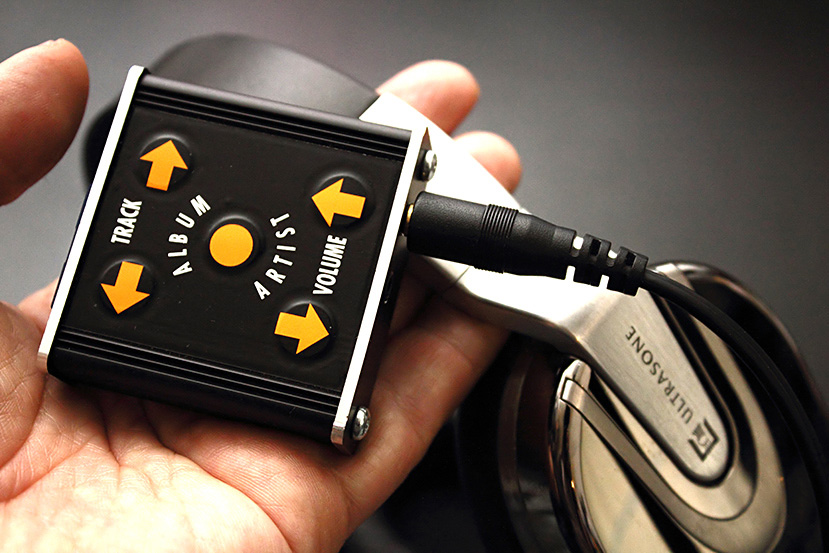 Above photograph courtesy of Yoshihiro san, Japan.
TERA-PLAYER FACTS
World's smallest portable music player capable of 192kHz wav playback.
Longest battery-time worldwide for a truly pocketable 192kHz music player ( >12h, 15h tested with 6 years old battery)
Fast charge-up time -> only 2h for 80% battery charge
Smallest digital section of any portable music player worldwide (smaller digital section -> less jitter, less noise, longer battery life)
World's only portable music player featuring dual ultra-precision Golledge oscillators that meet/exceed the performance of currently advertised FemtoClocks®.
No Cirrus/Crystal, No Wolfson, No ESS Sabre, No Sigma-Delta! Sorry guys, you didn't make it into the world's best sounding player. My advice: Listen and learn ;-)
World's only portable music player that employs a TRUE DAC with NO DIGITAL FILTER and NO OVERSAMPLING -> The Tera-Player is the only portable player with bit-perfect playback, a prerequisite to its unrivalled sound quality!
The Tera-Player has its own proprietary operating system and chip for all-embracing performance-control of every musical aspect!
World's fastest boot-up time for a high-resolution audio player -> less than a fraction of a second. The Tera is made for listening, not for waiting!
Tera plays .wav, the best storage format for music!
World's only portable music player, that allows you to change artist / album or track with a simple push of a button.
Tera-Player delivers infinite performance at an unbeatable price!
World's only portable music player with full screenless navigation!
WORLD'S ONLY PORTABLE MUSIC PLAYER COVERED BY A 6 YEARS WARRANTY!
World's only portable music player made in Germany.
World's most loved music player.
MORE TERA-PLAYER REVIEWS
Troy from USA
Hi just got the player and loaded some tunes!
I have to say this is the most detailed and true sound I've heard from anything to date!
Do you have any recommendations of songs that I can load to achieve the tera player's full potential?!
Troy
Peter from USA
Just saw your new website.
After a year of listening to the tera player I will say it is one of my best all time purchases.
Weather listening through headphones, car, jambox on the beach or golf course sound is killer.
The screen less controls I now can operate in my sleep.
Also I love the sound of the porta pros with mods Thanks and Take Care.
Peter Inman
Anne from USA
Dear Charles,
When I originally got in touch with you about the Tera Player, I said I wanted excellent sound, and as small as possible.
You told me that I'd found the right player.
WOW!
I am listening all the time - headphone, in the car, on my stereo system.
I love the quality of the sound.
I prefer it to the (very highly reviewed) DAC that is in my system.
Thanks,
Anne
Patrick from England
Hello Charles
Thank you and well done! My Tera is just so musical.
The AK240 I own is excellent but, when I want to listen to music close to the original, I now always go to my Tera.
With all the best,
Patrick (UK)
Barry from USA
Hello Charles,
Well I received my Porta Pro's back from modding yesterday, and I have not removed them from my head yet.
I fell asleep with the Tera playing in my head all night. :) I just cannot stop listening to music with this stunning DAP.
It truly is "all about the music" with the Tera.
The PP's pairing with the Tera player is absolutely astonishing.
I can't believe the detail I'm able to hear in my music now. I don't think I'll ever listen to my Fiio X5 DAP ever again :)
I don't see why anyone would be in search for any other headphones. The Porta Pro's and the Tera Player are a match made in heaven!!
All I can say Charles is that the Tera Player is the best Audio purchase I've made to this date. The sound is truly unbelievable!!
I'm in Pure Audio Nirvana. I still marvel at the fact that such full quality sound can come from a unit this small.....Its remarkable!!
In closing......I just want to say this Charles....all those Tera haters out there can go pack horse manure.
Tera is the greatest audio player in the world. Great Job!!
Barry
John from Singapore
Hi Charles
Listening to the modded Koss Porta Pro through my Tera and I am simply lost for words. They sound amazing.
I feel so stupid now for buying brands like Ultrasone. :-(
I feel like ordering an extra pair immediately.
John
Adrian from England
Hi Charles,
Am just sitting listening to some music on my Tera - after 2 years of ownership I am still loving it.
It is in fact my favourite audio item - I have changed many other things but am consistently delighted with your great player and thought I should let you know.
Adrian
René from USA
Hi Charles,´
Today marks my first year anniversary with my Tera-Player.
It should come as no surprise that I too celebrate ownership of the world's finest pocket sized music player.
It delivers PURE listening enjoyment that soothes my soul.
All I can says is, I just LOVE, LOVE, LOVE it!
Kudos to you!
-Steve
Wannapat from Thailand
Dear Charles,
I have receive Tera Stealth.
Here is my first impression:
After testing Tera with many of my reference earphones [Porta Pro Modded by Hi-Flight, (C)IEMs, Earbuds, and Headphones]. Both with 16/44.1 and 24/192 wav files.
Tera sound quality is PERFECT. As I have all the high-end players from HM901 with Balanced Amp Card, AK120, and iPods. I dare to say that Tera by far is the best sounding DAP for my ears!
Thank you for such an Amazing player.
In the future, if you ever have any new invention please send me an update, I'd be most interested in purchasing them!
Best Regards,
WC
Sean from England
Hi Charles
Tera-player has just arrived :)
It feels great in the hand, and looks very cool. I just love the commandline interface.
I have just tried my `stress test' --- Tubby Hayes `100% Proof', CD rip from the album of the same name.
The Player is very composed with this track, and is driving my B&W P5's very well.
Lots of `micro noise detail' around the sax playing (I am an amateur sax player, so like to hear all the clicks, clunks and drool!).
But driving my Grado RS1 headphones... very, very nice :)
Very good job, and I'm pleased to have been able to support your iconoclasm.
I read some of the tera-player flamewars, where anti-aliasing was a big source of argument. Interesting that camera makers, led by Leica, and including Sony and Fuji, all offer cameras with no anti-aliasing filter, because it results in visibly sharper files.
So, thank you for your work. I shall continue to enjoy my Tera-Player in all its lovely simplicity.
S.
Jacky from China:
HI Genius Charles:
I've come to talk with you; do not know : ) what are you busy with recently? The people who know you say you are a genius, not knowing who you think you are a madman. But I think these are not important, you know TP (TERA PLAYER) of the human nature to understand you!
Today, I have an audition, I took TP and I hand the stopper to them to listen, everybody is good for TP reaction, I also think that TP is a focus on sound good stuff, is the more expensive things, they do not believe in the beginning of this little will have the strength, the results ears proved that TP is over most of the player on the market. On hearing it, I personally think that his sound is the best, most simulation taste! Even beyond the AK240's sense of hearing!
THE SUN IS SHINING
THE BIRDS ARE SINGING
THE MUSIC IS GROOVIN'
THERE'S COLD BEER IN THE FRIDGE
I like your website advertising words, music is be light of heart from care, natural enjoyment
From the China friend
Jacky Wu
Dan from Switzerland
Hi Charles,
I believe this one will amuse you.
My daughter listened to the Black Hole Tera Player and is NOT returning it anymore :)
Please let me know how fast I could have another one ?
Please have mercy -;)
All the best,
Dan
Peter from USA
Unbelievable sound. Figured out downloading to wav etc. fairly quickly.
Slight learning curve on the UI.
Played favorite tracks ranging from Live dead shows to Son Volt, Steely Dan, PJ Ten (re-mastered) and finally my ultimate reference album re-mastered Sgt Peppers the compared to MP3 versions on my IPod and I can't believe I listed to that compressed crp for so long! Looking forward to loading more.
Really fun playing with this thing. Sound is unreal.
Thanks for all your help, great service and support, PI
Nathan from USA
Hi Charles, the Tera Player arrived today, and I'm just now listening to my first track off it and everything is working and sounding remarkably good.
Thanks for all your hard work, research, and making this available for people like me.
It's hard to be prepared for how small this player is!
Very pleased, thank you.
Nathan
Guy from The Netherlands
Dear Charles,
Thanks for the delivery of the tera-player, it arrived already saturday.
I am impressed by the sound quality which confirms your theories, especially percussive instruments seem to benifit, but even the Beatles sound better on the tera player then on any other device I have heard.
Maybe I should try your other products ...
Kind Regards,
--
Guy Meddens
Nirmala from USA:
YES! The Tera arrived today... I am loving it. Does this thing burn in at all? Can it get even better?
Thanks for an awesome new sound! I will report more when I have had more time to listen.
update:
I am still loving my Tera. I wavered some and tried some other DAPS, but at the end of the day I always came back to the Tera. It is uniquely amazing!
It sounds wonderful enough to make a Hindu god dance.
Warmly,
Nirmala
Chad from USA
Charles,
Received my beautiful new Tera Player today!!!!
It sounds amazing so far!
Truly, thank you for making this amazing machine!!!
You definitely have a repeat customer if you build any new daps...
Thank you again!
Regards,
Chad
Peter aus Deutschland
Hallo Charles,
über das Wochenende war ich nicht zuhause und habe erst vor 1 h den Player bei den Nachbarn abgeholt. Er ist also unversehrt bei mir angekommen!
UND:
Es ist der HAMMER !!!!!!!!!! Beste Anschaffung des Lebens !!!!!! Ohne Worte -- hüpfe hier mit meine 52 Lenzen wie ein junges Kind herum !
Werde wohl nie mehr meinen Rockbox Ipod 5.5 mit dem legendären Xin Supermicro-Verstärker hören wollen. Wobei ich mir eigentlich fast sicher war, dass keine Steigerung möglich sei. (Höre übrigens mit Etymotic ER4S InEars).
Nicht nur der Sound ist unbeschreiblich auch die Bedienung ist genial und vor allem super schnell (das fehlende Display ist KEIN Mangel!!)
Nochmal VIELEN Dank für die Entwicklung des Players !
viele dankbare Grüsse
Peter
Steve from USA
Hi Charles!
My Stealth Tera-Player arrived today.
OMG!
It looks so elegant and audio output is simply remarkable!
I'm pleased with my decision to go with your player over the others.
My research paid off. Count me in as a loyal client.
Thank you very much and be well!
-Steve
Heather from USA
Dear Charles,
I received the Tera-Player today!
It is absolutely incredible. As you know, and as others have told you, it is fabulous the way it produces what the recording artist meant for listeners to hear.
The first song I listened to on the player was David Sylvian's song "I Surrender" from his album Dead Bees on a Cake. I was so pleased to hear each instrument and vocals with such pure clarity and force.
As you can imagine, I've spent the last several hours converting and listening to as many files as I could and am playing music on it now as I write. :)
My boyfriend is plenty jealous of my player (he's known all about my excitement over the purchase and he had a listen as well of course!). I have to say I felt bad I didn't get one for him too! :)
Thank you again so much your fantastic craftsmanship. I'm so glad to have it and the fact that I was able to buy it from the creator and craftsman makes it all the more special.
All the best,
Heather
update:
Hi, Charles. I am one of your happy Tera-player customers.
You wrote in our last exchanges that I was probably the world's first Tera-player girl. A title I wear with pride. :)
I wanted to write and thank you again for making such a fantastic player.
I have owned mine for two months now and have had no issues with it.
It is as impressive a player as on day one and I still marvel at the sound clarity and 'separation' of instruments each time I listen to it.
Thanks again!
All the best to you and yours,
Heather
Robert from USA
Hi Charles,
I received the new Earsonics SM64 at the same time as the Tera. It's rated at 91 ohms and it sounds superb with the Tera.
Very smooth, very spacious combo.
No fatigue and a great black background.
While the SM64 is not as technically proficient as the TG334, the combo of the SM64 and Tera provides the best listening enjoyment / experience I've had in portable audio.
Oh and love the controls. They work as well as I imagined.
Robert
Michael from HongKong
Dear Charles
The Tera Player arrived a few days ago and I have been using it non-stop - getting used to the sound and enjoying it thoroughly.
Great! Many thanks!
Michael
Steve from USA
Hi Charles,
It's been over a month since receiving my Tera-Player.
It's difficult to put down.
I've been listening and enjoying since then.
Thanks for creating the world's finest pocket sized music player.
Kudos to you!
Steve
Jim from USA
I am loving my Tera player. Listening to it with Westone 4R. Stunning...
Jim
Peter from USA
Btw. really having fun w player.
Wife got pissed when I took it to bed w me!
Martine from France
Hi Charles,
Thank you so much for the speedy delivery, I got it safe and sound shortly after you sent it.
I'm enjoying it enormously!
Cheers,
Martine.
Francesc from Spain
So I received my Porta Pro yesterday, and after some listening I can say that it sounds really great!
In addition, it is very comfortable and portable: with the bag that comes with PortaPro I can put the Tera Player, so I can bring my HiFi equipment everywhere I go!
Finally, reformatting the 64 GB SD with FAT32 I had no problem reproducing music with it. So I can bring more than 100 long-duration CD's with me too :)
Thank you!
Francesc
Stephen from UK
Hi Charles,
I have received the player now and I am a very happy man. It is as amazing as I had hoped.
Thanks very much.
Stephen. UK
update:
Hi Charles.
Just thought I would give you an update on the Tera Player.
It's been a couple of months since getting it and the biggest difference that its made to me is that I now listen to my music much more than I ever had done in the past and that is to say that I can, and have, had this plugged into my ears for 8 hours straight with no break.
I didn't really understand what non - fatiguing sound meant until I got this player.
It is an amazing player and we'll worth every penny.
Thanks again.
Stephen.
Headfonia Product(s) of the Year 2012, as found here
Mike: The Altmann Tera Player
There were a lot of great products being released in 2012. Most mind blowing to me is definitely the Fostex HP-A8C desktop DAC.
Then the ALO PanAm. The new Cypherlabs Solo -dB (I love the sound of the new Solo), the Beyerdynamic DT770 32‡ which L and me both love,
the Astell & Kern AK100 (though I didn't like the sound, overall the product deserves two thumbs up), and lastly the HD700.
Lieven who's in charge of this article has asked me for the past several weeks to submit my choice and I had a really hard time choosing.
Then it occurred to me that my choice should go to the Altmann Tera player.
Yes, that controversial product that brought me a lot of heat when I published the review.
Over time, people who have listened to the Altmann all agree that the sound is among the best (I think it's the best).
With the Altmann, I don't even worry about what headphone/IEM to use, as long as the relatively puny headphone out can drive it.
It can be a $1,400 FitEar 334 IEM, or an average Shure SE215, or even a lowly Sennheiser PX100-II.
This is the player that never fails to deliver music to me, regardless of what headphone I plug into it.
All with the convenience of having a true pocket-able sized device.
I just love this player.
Andreas from Greece
Hi Charles,
The player is exquisite.
Dammit I'm impressed!
I compared it to my Cowon d2. Used the track my ashes by the porcupine tree (I never liked the mix Wilson did here with his voice too nasal at the start of the track).
After altmann, I queued the cowon flac version of the song and immediately was struck how flat it sounded.
No contest at all.
And there went my evening cause after porcupine tree there were Low and the guster and after vast and...
I was hooked for 5 hours! Your player can do this to people, you know.
My other rig involves centrance dacport, but I don't remember it being so impressive.
I tell you,you're on to something!
Keep up the good work!
Andrew from England
Hi Charles,
I am enjoying the Tera-Player very much indeed and am astounded just how good it sounds paired with the Koss PortaPro.
How can a 20 Euro portable headphone sound this good?!?
I'm flabbergasted and confused, as the Koss sounds better than headphones costing ten times as much that I own.
You and Koss are geniuses, or you've both signed pacts with the devil! ;-)
Yours in bemused sonic nirvana,
Andrew
Mike from Indonesia
Charles,
After using the Tera-Player for two months now it's officially my favorite portable player and the one that I use the most.
The sound is superb, and I enjoy the simple screen-less UI, the fast response time, the tough build quality, making it a very ideal high quality player to use day in and day out.
Regards,
Michael Ting
Yoshihiro san from Japan
Hi Charles san,
It just arrived!
Tera sounds fantastic.
Can't believe such big yet detailed sound comes from such a tiny DAP.
I am using AKG K3003, Ultrasone Edition 8 and newest Suyama 334 universal.
Keep up the great work.
Sem from Indonesia (Tera-Player V1 version)
Dear Charles,
The sound quality of your Tera Player is very qood, the clarity and detail superb.
I also have HM801 and Colorfull Colorfly C4, so I can compare your Tera and other player.
I have several headphone like HD800, T1, LCD2, but mainly I using Beyer T5p, for IEM, I using AKG K3003 and Shure 535 LE.
Cheers,
Sem
Irvin from South Africa (Tera-Player V1 version)
Sounds great thanks Charles-very pure.
For classical recordings which are often quite soft it goes very loud on the porta pros, loud on the hd 25's and usable on the denon d2000's.
Rudolfs from Belgium
Dear Charles,
Sorry for the lengthy email.
I received the player on Thursday 15 March.
If you are impatient to know what is my first overall impassion, here it is: Tera-Player is the Holy Grail of DAPs.
But back to the course of events.
I filled the card with some files (Autobahn, Glenn Gould's recording of Goldberg variations (1981), Rubber Souls (latest remaster) and 5 albums of the Doors.
Indeed it works fine.
Much, much more than fine.
I am listening to it thru Ultrasone Edition 8 right now, and my first impression is that this is the best sound reproduction quality I have experienced. I will try other phones and compare the impressions to listening thru speakers (which of course is smth. completely different), but the first thing which springs to mind is - no fatigue. Good balance, details, separation, etc., etc.
I am positively amazed how you managed to squeeze this in so small a box. The size is just perfect, exactly on the spot
It indeed lives up to the promise -- it IS the performance standard.
That being said, I make pauses now and again - the experience is almost overwhelming.
So thank you very much for this great product!
I briefly tied the player with beyerdynamic Tesla T5P and - even shorter - with Sennheiser HD600 yesterday late at night, and just now - with Sennheiser HD 25 Adidas (but between HD 600 and HD 25 I replaced most compositions on the card).
Apparently it accentuates the strengths of each of the phones, - keeping the weaknesses bearable.
T5P was just amazing with Glenn Gould's piano recording and fine with the rest, HD 600 was fine with everything (lively, well paced, although 'compact' soundstage), and HD 25 had more PRaT than ever. On some compositions which employ early stereo tricks I could actually 'feel' where and how is placed the driver of T5P, - but that disappeared once the stereo mix was more natural.
Between HD 25 and Edition 8 (just switched back to them while listening to Salty Dog (single), the latter are much more refined and ultimately more enjoyable, still HD 25 remain very involving. Laurie Anderson's Big Science sounds just lovely, again I prefer Edition 8, but I could live happily with HD 25 -- if I had not heard Edition 8, that is. Not to forget about comfort (HD 25 win in a gym, Edition 8 - everywhere else).
With best regards
Rudolfs
Tadashi san wrote:
Herrn Dipl.-Ing. Altmann,,
The player has received safe. This is marvellous!
Thank you very much.
Tadashi
Kei san wrote:
I've just received my tera-player.
I'm feeling my portable system's upgrade after a long time.
Thank you very much!
Kei
Minoru san wrote:
Dear Charles.
Hellow.
"Tera-Player" has arrived today.
I liked it very much. Have a good sound out.
And, I am using SDXC cards that are formatted as FAT32.
Really great.
Thank you.
Minoru
Ron from Florida:
Charles...
My Tera-Player safely arrived today. Indeed, it sounds superb. I will
forward further impressions after more hours of listening with my
various IEM's and Koss phones.
I am very pleased with the choice of v.0
Thank you for combining such simplicity of function with such elegance
of engineering!
Ron
Franck from France:
Hi Charles,
I received the player today.
It looks very nice and It's very well built.
I tried it for 10 minutes and the first impression is really really good. I definitely love it !
Thanks again for having built it so quickly
Franck
Miyamoto san wrote:
Hello , Altmann-san,
I have bought Tera-Player from MixWave.
Attached file is my listening system .
Tera-Player is compact and high quality DAP . I use it in commuting every day .
I like its good sound and quick response .
I pay respect to your effort for making this "Masterpiece" .
Thank you .
Regards ,
T.Miyamoto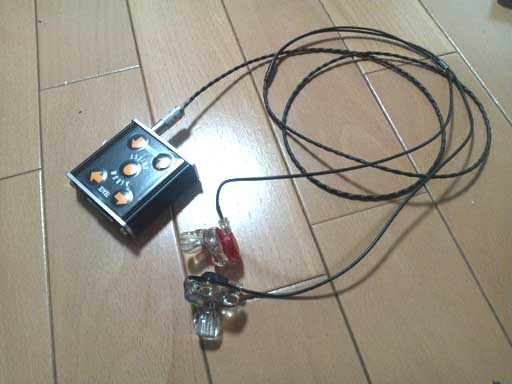 Above photograph courtesy of Miyamoto san, Japan.
Jonas from Sweden:
Hi Charles!
I got my Tera player out from post office this morning!
It sounds wonderful!!
/Jonas
Tsuyoshi san wrote:
Hi Charles,
I have just got a Tera Player!
Listening I found I don't have to carry anymore Chinese DACs. This is a time to be independent from the Androids. Even though I've used for only few hours, it looks very durable (without a monitor accretes the feeling of dualities more) so it seems I can hold it more than decade.
It should do everything what I need when I go out. From the smallest body, the true and natural music comes out, just amazing.
I'm always looking forward to hearing amazing future news from you.
Cheers,
Tsuyoshi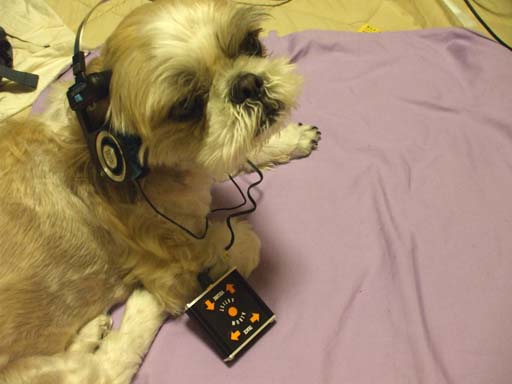 This photograph courtesy of Tsuyoshi san, Japan.
Jerome from England:
Charles
Thanks.
It was the tags. Now working perfectly.
And it sounds magnificent!
I own around 20 different personal audio devices (Minidisc, CD and mp3) including the HifiMan HM-601, S:flo2 and Rocoo Studio P.
The Tera has an authority and "bottom" that none other comes close to delivering.
The size and battery life is just icing on the cake.
I'm very grateful.
Thanks again and all the best.
Jerome
Jan from Denmark
Hi Charles,
I have recived the TP, thanks.
It sounds so smooth and 'ear-friendly'...... but I guess that you knew that already :-)...so I listen for hours
Only 'problem' is that the sound is so smooth that I tend to play too loud!
BR Jan
Andrey from Russia (Tera-Player V1 version)
Hi Charles!
After spending some time listening to Tera-Player I am ready to share my impressions.
I am not a professional, I just like listening music :)
First of all I wasn't really expecting such a BIG sound from such a small device. I tried different headphones, but mostly I was listening with Beyerdynamic t5p.
The music was mostly metal. The sound I've got with Tera-Player is just so great with metal music and also very detailed. I also have another high end DAP build by a famous Chinese brand which is also using an R2R DAC.
In comparison with Tera-Player it sounds too dark for my taste and the Tera-Player is much more neutral, the mids are so much better with Tera, guitars and vocals are just the best of all players I ever tried. I can listen for Tera-Player for hours and there is absolutely no fatigue which is common with some lower grade devices.
In my opinion Tera-Player is the best sounding portable player at this moment and it's also the most portable player of all other high end DAP's.
In terms of usabilty itis also very good. I have multiple SDHC 32 gb cards and on each of them there are about 10-15 bands directories with 2-5 albums in each of them and finding the album I want isn't hard at all.
Sorry my English is far from perfect so it was really difficult for me to describe my thoughts.
Thank you Charles for making such a great device! :)
Andrey
Gaspar from Spain
Hi Charles,
It's a week since I got the TP &emdash; very, very happy with it.
Great to hear very clean sound with absolutely no distortion or clipping.
Have tried a 64GB card the last couple of days and no issues whatsoever, works very well (so far). I use this particular card as a massive playlist (about 1,100 tracks) divided in 12 folders. For whole albums I prefer to use 32GB cards.
All in all very happy with SQ and the TP's form factor, ie great to have very intuitive external buttons. Also, response time is fantastic, very, very quick.
I certainly wouldn't recommend the TP to the masses, but it most definitely gets my recommendation&emdash;though still a bit expensive when you factor in the need for several memory cards&emdash;to those who are serious about SQ and need / want true portability. So, no regrets so far from this end.
Cheers,
Gaspar
Levi from Romania
Hey Charles,
Merry Christmas and a Happy New Year.
Thought you may like this photo and put a smile on your face.
I really enjoy the Tera Player. Many thanks again.
Regards,Levi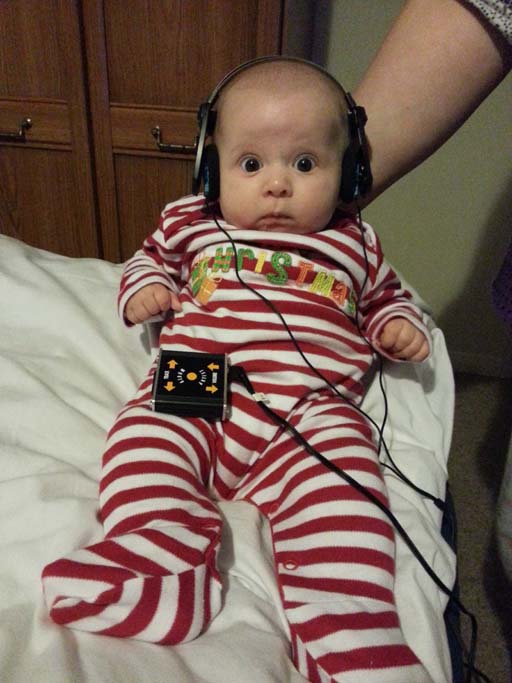 Chris from Australia
Hi Charles,
I'm not going to attempt to review the Altmann Tera Player from a sonic point of view because I am still learning about Audio and am certainly not an expert. I have however been in Heaven listening to the Altmann Player for the last two days from a users point of view. I work in IT and have the opportunity to listen to music all day at work. Lucky me!
I've purchased quite a few players which I later sold because I wasn't happy in one way or another.
Ibasso DX100 - Very good sound but very large, heats up, bad battery life, can't charge through USB and really bad UI.
Colorfly C4 - Again great sound and looked very cool, however it had really bad battery life, very large to carry around.
Studio V Anniversary Edition - I really liked this player - Small, and again good sound but some hiss is audible - great battery life but the UI is very bad.
I've had many Cowon players which are all fustrating with UI.
The Altmann Player delivers on all fronts for me.
It's portable, has a good battery life, excellent build quality ( I don't have to worry about it in my pocket), very fast startup (having no UI is a bonus in my case and no firmware updates), uses cheap SDHC cards, 5 Year Warranty
The best feature of course is the sound. WOW it's just amazing! I never really understood what people meant by non-fatiguing but now I have a better understanding. I can listen all day and it doesn't bother me at all.
Thank you for this wonderful player! It certainly is the END player for me.
I hope we can keep in touch in the future.
Kind Regards
Chris
Nizam from Singapore
Hi Charles,
Just got my Tera yesterday. Currently listening to it with my mg6pro. It sounds great and amazing.
I have a HM-801 and Colorfly C4 and I would say the Tera really topples those guys.
Thanks for making this great product.
Nizam
Fernando from Mexico
Hi Charles,
I just recieve my Tera yesterday. You are a genious!, Its incredible!!!!!!!
I used to listen only ipods and cellphones (to play my flac files), but now I am playing vinyl rips in 24 bits in my Tera, and I cant describe the feeling!!! i couldnt sleep!!!
The sound is so clear, the songs are different because of the great sound!!!!
Thanks!!!!!!!
You are great!!!!
Fernando, your friend fom Mexico
Arkady from Russia
Hi, Charles,
Here is my opinion after a few days of listening.
1. Bass: I've never heard such a good one on any of portable devices (HiFiMan 602, RoCooA, Rio Karma mod, even iBasso DX100). The quality and control of low frequencies is incredible, and the quantity is just perfect.
2. Midrange: clear, agressive when it should be, and never annoying... I mean it!
3. Treble: high frequencies are detailed and clear, but some "aftersound" (don't know what it is called exactly) is missing. I.e trebles just "flash", but not "sparkle"
I have no difficulties (well, almost...) when scrolling through 32Gb card, and it is so great I can easily operate TERA in my pocket! You know we have rather severe winters here in Russia, so the possibility to operate a player in a "blind" mode is highly appreciated.
The response of buttons is immediate, and the whole unit begins playing as soon as you push the card into it. When using, for example, iBasso DX100 (which is one of the best portable devices anyway), it takes the player 2 or 3 minutes to begin playing music, and that's really annoying.
Last, but not least: thank you for not making TERA touch-sensitive!!! Touch screen is a good solution for mobile phones, but not for music players.
Thank you for this portable music wonder. Be sure, it has no rivals as it is.
Arkady
Gavin from HongKong
Charles
Just received the Tera Player tonight!
Listening with the Flat 4 Kaede, BSV Club in 24/96............this player is something special!
It is a sound enamating from your Tera Player that uber Audiophiles try for many years to achieve in their home systems.
Great ears!
Regards,
Gavin Chiu, Tralucent Audio
William from HongKong
Hi Charles,
I truly apologize for my delay in sending this note. The Tera-Player arrived safely a few weeks ago.
I LOVE it!!!!!!!!!!!!
I even purchased some Koss Porta Pros. Sound is incredible! They remind me of the headphones that came with the first Walkmans in the early 80s. Retro cool, but with the fundamentals to make for a great listening experience.
The TP completely outperforms the apple lossless iPod/ Cambridge audio dac I used previously at work. Impressive!
I will avoid the temptation to ramble. My sincere thanks and I will be back in touch soon about an Attraction DAC. :-)
Take care and all the best,
Will
Joe from USA
Hi,
I live in the United States and had a chance to listen to my friend's Tera yesterday which he has been gushing abt since he got it.
To say that I was blown away is an understatement.
If I told people what we compared it to, they would be in disbelief. It made a reference-level headphone amp sound lifeless.
In the context of the sound we were getting, the price is a complete bargain. $1,600 of gear has never sounded so good (Tera plus some Sennheiser Amperior headphones). What is the current turnaround for a standard Tera player and how do you handle payment?
Congratulations on a truly break-through product.
Best,
Joe
Joonas from Finland
I received on last Friday.
I love it, thank you so much!
I'm listening with Spiral Ear 5-way Reference Monitors.
Joonas
Richard from HongKong
Hello Charles,
Have used the Tera-Player in my car, with my headphones and even connected to normal hifi set up and that all with very detailed yet musical.
I very much enjoy it.
Richie Audio
richie.com.hk
Vincent from USA
Hi Charles,
Just wanted to let you know I really love the player.
After a week the sound stage with my in ear buds became what I expected and the music is wonderful.
Even some of the bad recordings I have sound very good.
Thanks
Vince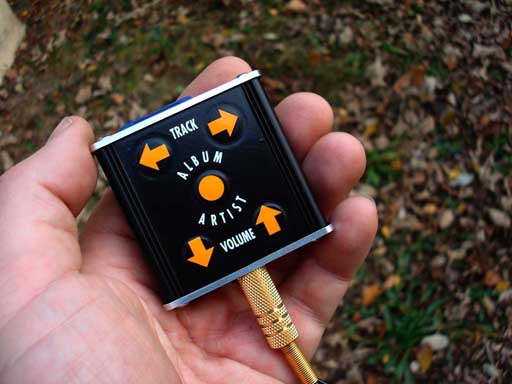 The Altmann Tera-Player is the simplistic music player capable of high-resolution audio playback and superior sound-quality.
In fact, full resolution CD quality is the lowest playback mode that the Tera-Player is capable of.
Read the Tera-Player's manual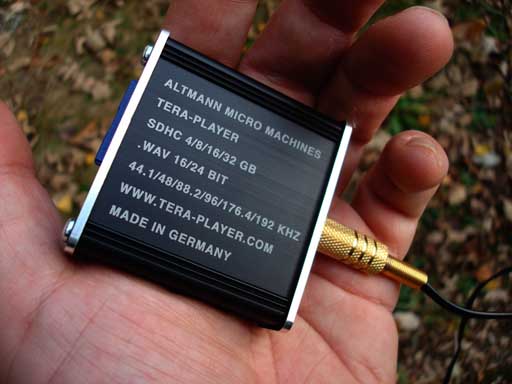 TERA-PLAYER SPECIFICATION
size: 57 x 57 x 18 mm
weight: 80 grams
case: all aluminum black anodized, laser engraved
front rear plates: 2mm aluminum black anodized, CNC machined
main chip: ARM Cortex, proprietary operating system
DAC: NOS Philips R2R with current output, ASRS element and true 16-bit resolution
oversampling: zero -> no oversampling and no digital filter on the Tera-Player
I/V conversion: Burr-Brown
headphone amplifiers: Burr Brown
oscillators: 2 separate ultra-precision crystal oscillators supplied by Golledge with RMS period jitter spec: 5ps max. and RMS phase jitter spec: 1 ps max
battery: Motorola LI-ION 700mAh
charging: mini-USB port 300mA, monitored by red LED
playtime on single charge: >12h (15h tested with 6 years old battery)
charge time: 2h 80%
Storage: SDHC card slot with 4/8/16 or 32 GB SDHC
currently testing SDXC cards with 64GB and 128GB (SDXC cards must be formatted to FAT32 for use in the Tera-Player,
supported file type: WAV stereo 16-bit and 24-bit. Tera does not support file formats that cripple music (i.e. mp3, DSD, etc.)
Supported sample-rates: 44.1 / 48 / 88.2 / 96 / 176.4 and 192 kHz
headphone outputs: silver plated contacts, 2 separate outputs: teramega and superduper, can be used simultaneously
recommended headphones: Koss Porta-Pro, Kramer mod
navigation: tactile pad with 5 stainless steel buttons, gold plated contactor foil, hand assembled
high quality digital volume control using 32bit calculation
navigation commands: next previous track / album / artist
supports iTunes® music library structure
5 (five) years limited warranty, 6 years for the 2014 'up Tera models
hand-made in Germany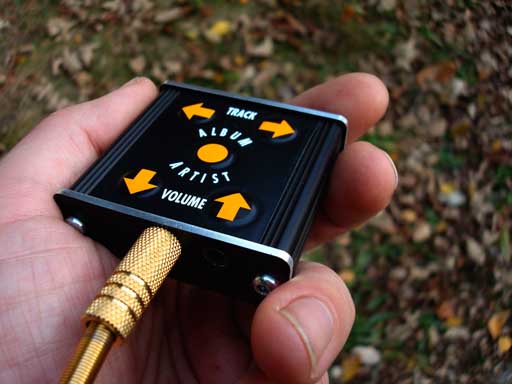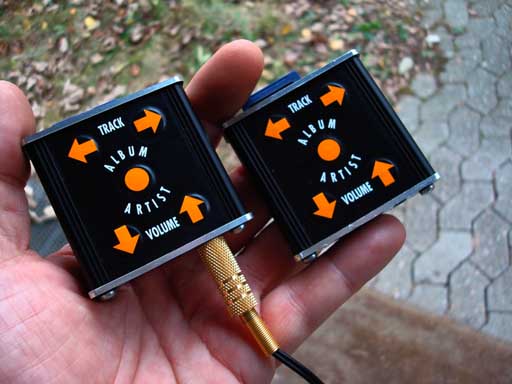 AUTHENTIC SOUND REPRODUCTION SYSTEM (ASRS)
Since every gain device, by nature, injects a specific amount of distortion into the signal-chain, the output signal will be degraded to a specific extent.
A DAC chip may be seen as a gain device with exceptionally high distortion in general, and particularly with a high out of band distortion.
In all common DA converters, the - out of band part - of the generated distortion will partially be removed by analog post processing circuitry.
The residual distortion is then ´glued´ inside the output signal and cannot be removed in following processing steps.
This residual distortion generates sonic artefacts, that prevent even the most advanced digital equipment to faithfully reproduce certain natural sound sources, such as: vocals, strings, horns/reeds, pianos, organs, acoustic & electric guitars, drums, etc.
Until today, recording engineers and large parts of the audiophile community complain about artefacts in digital sound reproduction, and there is a consistent tendency to use high quality analog equipment, whenever possible.
The ASRS design topology overcomes the limitations of all existing DAC systems by implementing proprietary filter elements, that remove distortions directly from the chip-surface of all gain devices, before the signal can leave the specific component.
This effective reduction of residual signal corruption promotes a perfectly authentic reproduction of all sound sources, while maintaining an unrivalled level of overall performance.
The ASRS design topology was developed by AMM in 1998 and is implemented into all ALTMANN DA Converters, AD Converters, Amplifiers, Phono-Stages and of course into the Tera-Player.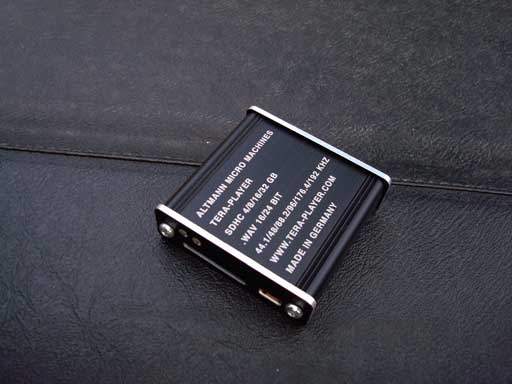 The laser engravement on the Tera-Player's rear side.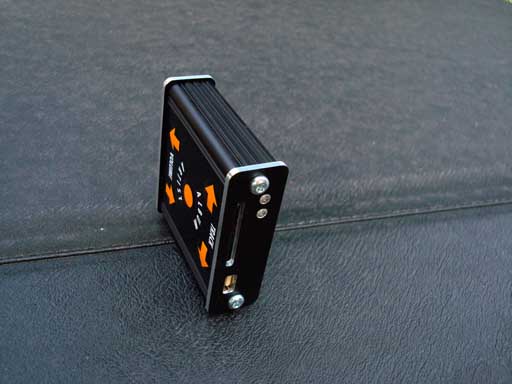 On the MAC we suggest using the free XLD software to load the music on the SDHC card for your Tera-Player. XLD can be configured to convert all incoming files (Apple Lossless, Flac, ogg, mp3, etc.) to WAV automatically, while copying to the SDHC card.
On the Windows PC we use the excellent XRECODE software for converting and copying files to the SDHC card
Both work excellent.
TERA-PLAYER STEALTH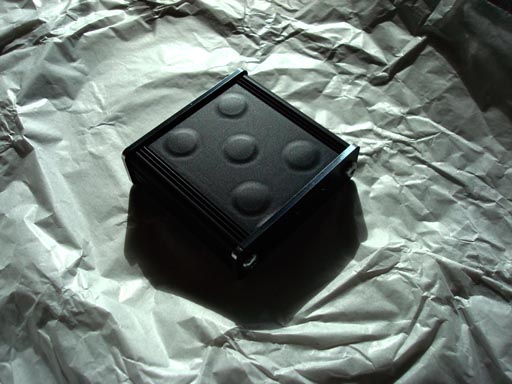 Super-matte BLACK keypad, hand-polished aluminum edges.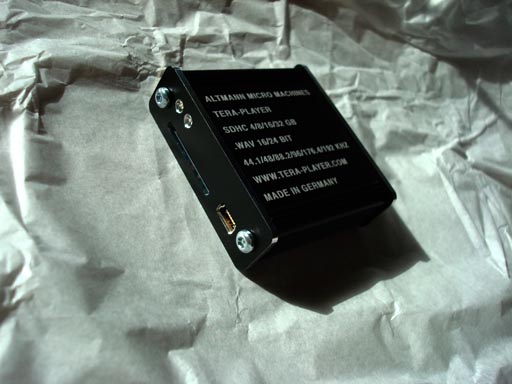 Applications taken by email.
TERA'S THREAD-LOCKING CAPABILITIES
Who tries to keep you from owning the world's finest DAP ?






-- MAKING OF --
ASSEMBLY OF A TERA-PLAYER STEALTH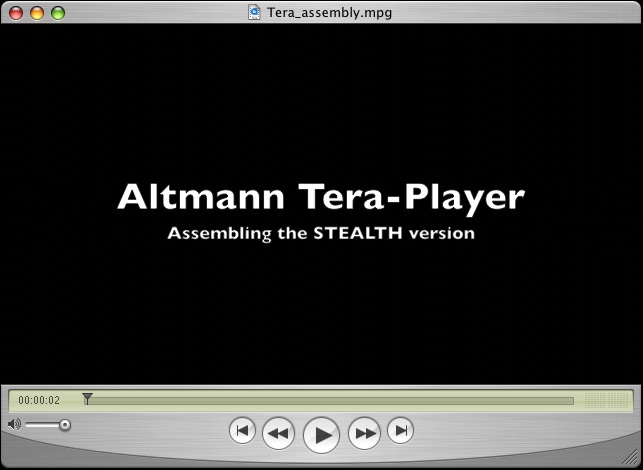 QUALITY ... is never an accident !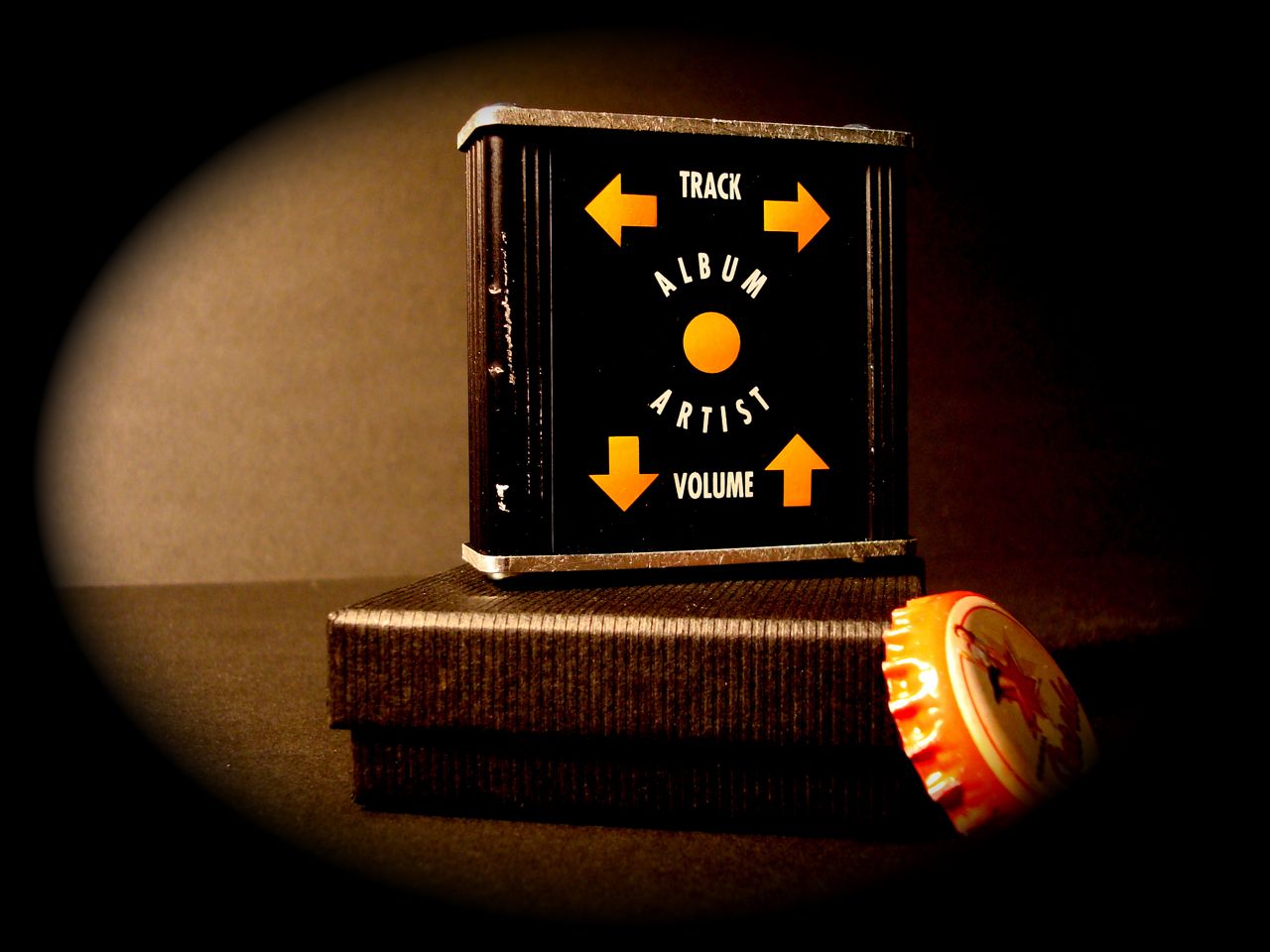 When it comes to Quality we can be a tad rough.
We like to test a little harder, and a little longer; just to make sure that the world's finest portable music player is able to keep up with your lifestyle.
Let me introduce you to the Tera-Player FTU's, our Field-Test-Units.
These Tera's have been where no other portable music player ever was.
Scratched, dropped and badly mistreated for years, yet still delivering unrivalled sound quality.
Whenever a Tera-Player Field-Test-Unit returns to our laboratories, it is cleaned, thoroughly inspected, updated to the latest hard- and software feats, tested, tested twice, tested again and then sold for a very attractive price to a caring owner.
And hey, we even back those up with a 5 years warranty.
Why would we do that ?
Because we can.
Become part of a legend and apply today for your Tera-Player Field-Test-Unit!
Limited supply only. SOLD-OUT.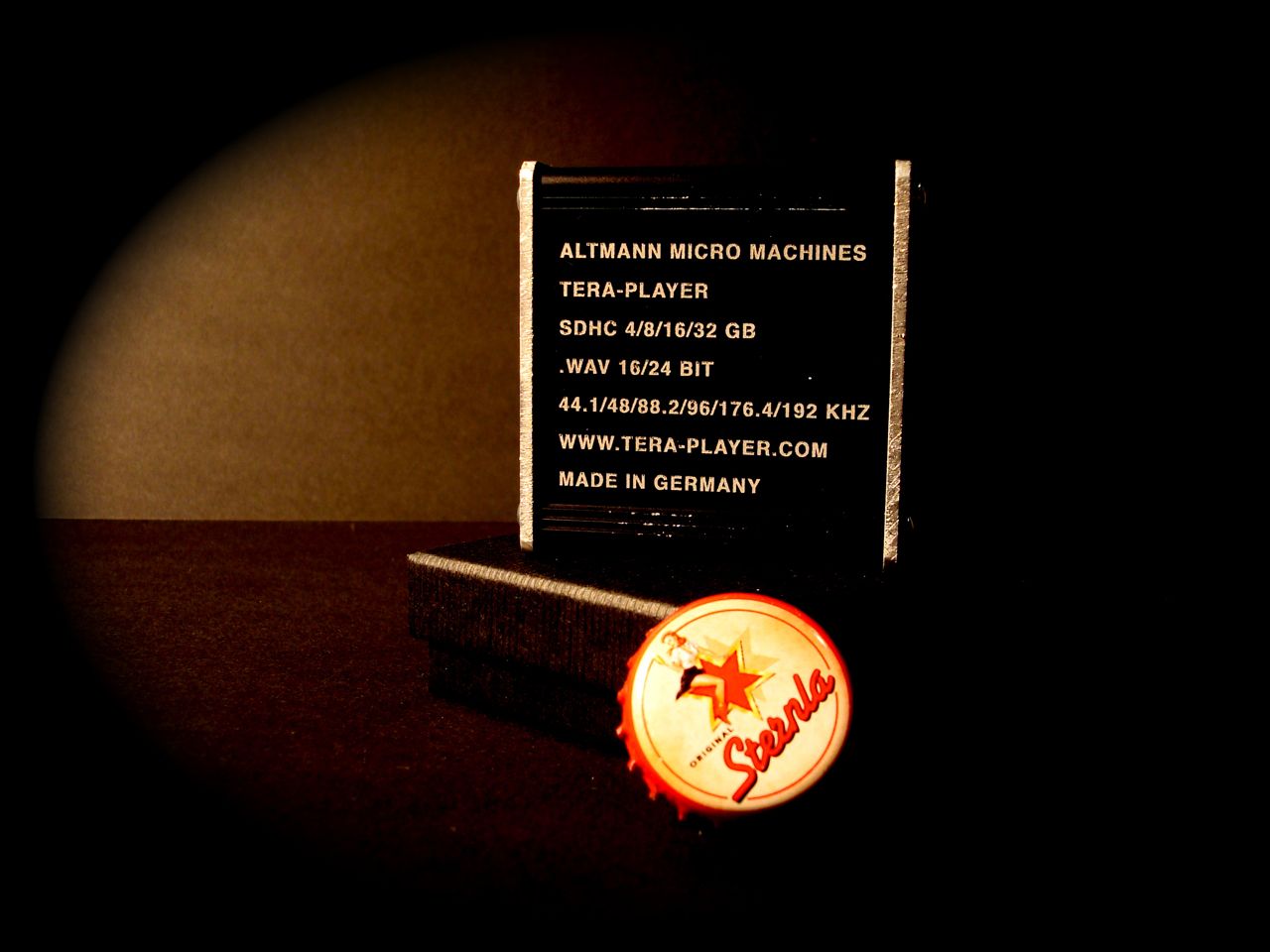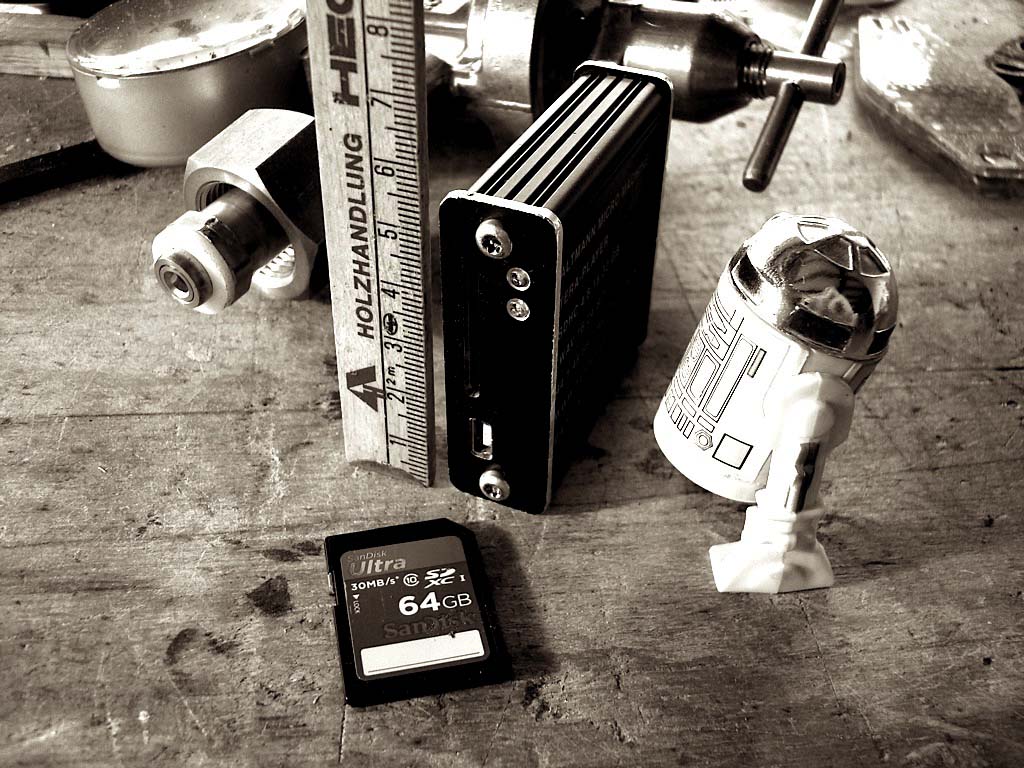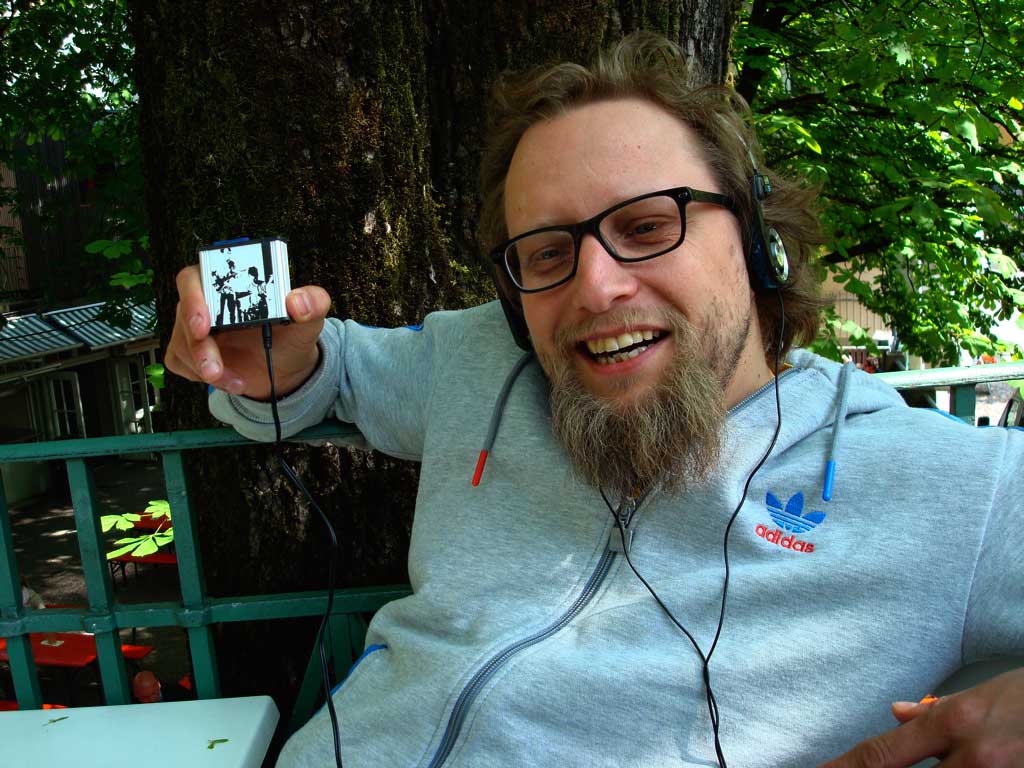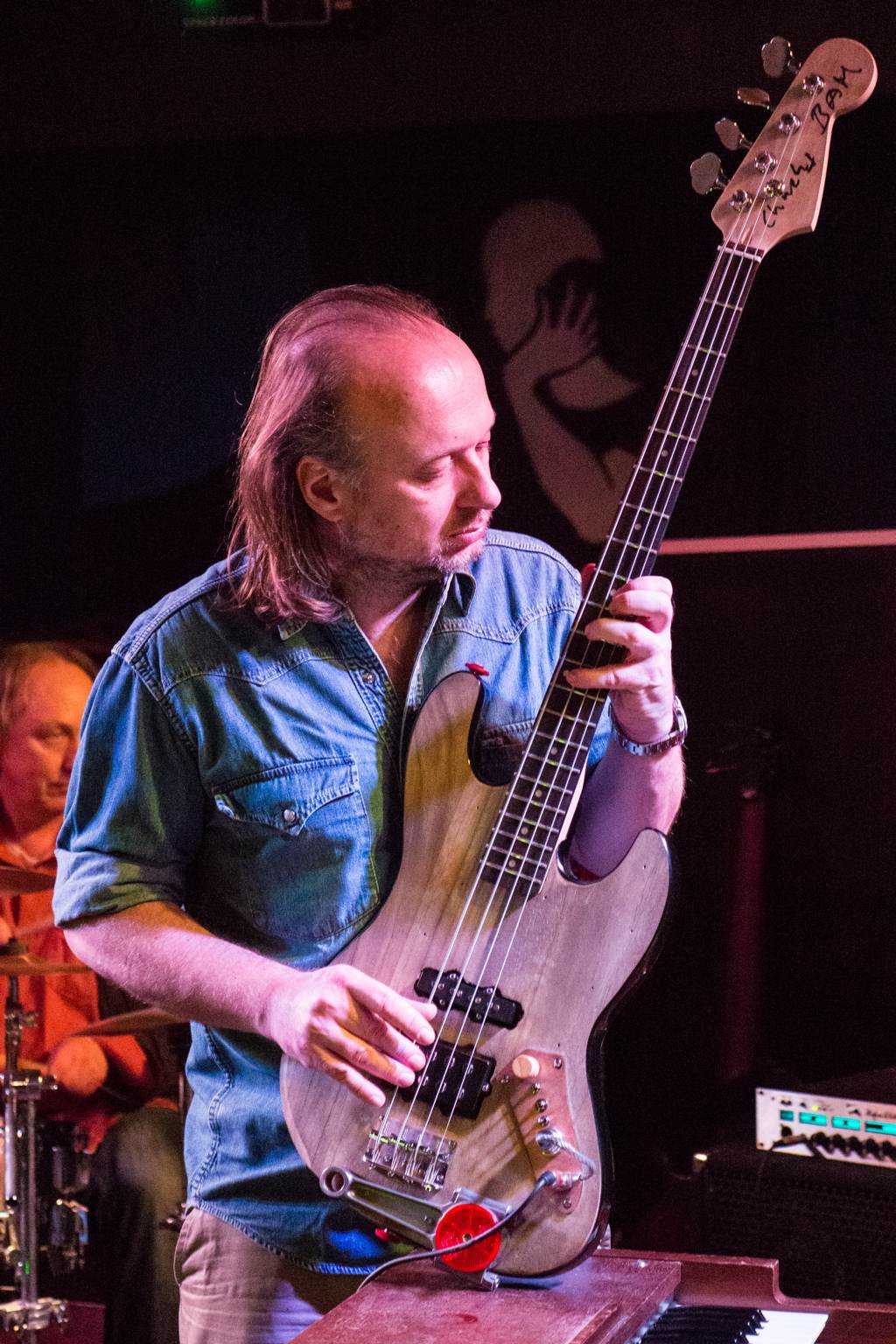 ALTMANN MICRO MACHINES - Dipl.-Ing. Charles Altmann - Erlenstr. 15 - 42697 Solingen - Germany - +49-212-233-7039 - email
iTunes® is a software from Apple, which is in no way affiliated with AMM.
more AMM websites: mother-of-tone.com, trumpassist.com jitte.de, amm.haan.de